---
Gästrecensioner för Cortijo Barranquero, Los Romanes (AXA 012)
Detta huset har fått 19 gästrecensioner på TripAdvisor
---

---

---

---

---

---

---

Review from




Tonywaye, Leeds, United Kingdom




Left on Sep 19, 2016 for a stay in Jun 2016

"Perfect relaxing holiday location."


Having visited this property when my sister hired it, we knew what to expect. We were not disappointed. There is everything an extended family needs for a fabulous relaxing holiday in the sun. The owner, Carina, was available if required but not obtrusive. The outdoor space is truly wonderful - we only went inside to shower and sleep!


---

Review from




Samantha W, United Kingdom




Left on Aug 23, 2016 for a stay in Aug 2016

"Beautiful villa"


A party of 7 went to Los Romanes I fell in love with the place the minute I walked in the door. Breathtaking scenery, beautiful villa very very spacious we were not on top of each other at all, a 5 min walk from the local village. Put it this way we plan to go back.would highly recommend


---

Review from




JJjjsandH, United Kingdom




Left on Aug 11, 2016 for a stay in Aug 2016

"Fabulous villa in a wonderful location"


We loved this place from the stunning views to the quirky layout and the way Carina and Jasper have thought of everything. The village of Los Romanes is lovely to and only a few minutes walk, the locals are very friendly and the food is good in the local restaurants. We will definitely be back!


---

Review from




charles474, North Yorkshire, United Kingdom




Left on Jun 13, 2016 for a stay in Jun 2016

"Brilliant"


Such a great villa in such a great location. Incredible place and views. The owners were great throughout the booking process and throughout our stay. Such nice, helpful people.


---

Review from




Lesley R, Warwick, United Kingdom




Reviewed 6 Sept, 2015

"Perfect for relaxation, beautiful setting"


This is a beautiful, rustic, peaceful house and a perfect place to relax. Carina and Jesper are lovely people and very happy to help out when needed. The house is just outside the village where there are a couple of shops, restaurants and a bar. There is loads of space and sunny and shaded areas to sit. We were a party of 7 but there are so many terraces we never felt crowded.The outside space is beautiful and we picked fresh figs and lemons. (There are also pomegranates, oranges and apples). There are plenty of sunbeds and pool towels provided and a lovely pool. The house has everything you could possibly need, a fab kitchen and lounge area, loads of space, and books and DVDs for everyone! The pool table, and table tennis table kept the older 'kids' happy with many a tournament. Free WiFi is also a huge bonus when travelling with teens/young adults. It is lovely to eat dinner overlooking the mountain view. It is only a few minutes walk into the village to the shops which are well stocked and one shop has a butcher too. The village is unspoilt, friendly people, and quiet. Few people speak English so try out some Spanish! The village is also VERY hilly if you plan to explore. We can highly recommend the steaks at El Charco restaurant. There is little locally and a car is necessary. It is a difficult walk to the lake, and a main road to be crossed so I would recommend going by car, plus the activities are held at the far side of the lake. I can recommend Malaga-outdoors for activities on the lake at a reasonable price. Try their activity day, loads of boat activities plus food, at a reasonable price. Also Aquavelis water park is only 15 mins drive away. If you want peace and relaxation then Cortijo Barranquero is perfect, but if you prefer action/sightseeing then be prepared to drive further afield. The beach is about 35 minutes away at Torrox where there are loads of restaurants, inflatables on the beach etc, but it seems really 'busy' after the peace at the house. Our son went diving the Torrox wreck with Black Frog Divers - recommended.


---

Review from




Caroline B, Helsingborg, Sweden




Reviewed 27 May, 2015

"Close to heaven!"


We had the most wonderful holiday here, celebrating our mothers 70`s birthday. We were 10 persons from 1,5 -70 years in age. The house, the garden, the village, the spectacular surroundings, the service from the owners, involved all we could ever wish for.


---

Review from




Land JJ, Walsall, United Kingdom




Reviewed 8 Jan, 2015

"Second Time Visit ; There Will Be A Third!"


Our group included 5 adults & 4 kids. I had stayed at the Villa before with 3 other adults and 3 children so knew what to expect. The Villa was exactly as I remembered. 2 adults in the ground floor ensuite king room. (my favourite!) 2 adults in the basement king room 2 children in the basement twin room 1 adult and 2 children in the ground floor king en suite annex The ground floor is open plan with the kitchen, dining table and lounge area. It also has a bathroom with a bath and the washing machine is in here. off the lounge area is the kingsize room with aircon and its own shower ensuite. The basement has aircon in each bedroom and there is a shower bathroom, and private entrance to the terrace / table tennis area! (AND LOADS OF STORAGE!) The annexe has its only private entrance and is basically a very large gallery king room, almost a suite with a couple of easy chairs, a walk in wardbrobe and an ensuite shower bathroom. Carina and Jesper are wonderful hosts; respecting your privacy but always on hand if needed and only a phone call away. We went in October 2014 (end of) and were very very lucky because we had 2 full weeks of up to 30 degrees on some days. Car hire is a must. We had a little Fiat 500 which was perfect! There is a small shop within walking distance, but the best supermarket is a ten minute drive to Velez Malaga; you drive back out with the camping restaurant on your left; over the bridge (over the lake) and eventually will hit your first roundabout where you turn left; then another roundabout over some train lines; take the exit straight over, heading up a slight hill into the town; you will pass some big bins half way up this street on your right and directly after these turn right into an underground carpark. This is where we did our food shopping on both villa visits and is by far the cheapest, and literally has everything you need. Would also recommend a drive to Nerja. Only takes 30 mins up the motorway, or longer if you take the scenic but beautiful coastal route. Burriana Beach in Nerja is wonderful and the best place to eat is Cafe Del Mar on the beach front. Would not recommend the 'red' restaurant next to the yellow camping restaurant as the staff and the food are both equally yuk. Never ate in the yellow restaurant so unable to comment. Instead of heading back tot he main road from the village; turn right up the hill out of the villa and bear left at the corner, drive through the tight street of the village and pass the little shop on your left; follow the road and you will go down a hill and up a big hill the other side. On your left is a boutique hotel / restaurant Las Orquideas; OMG the food is AMASING! Expensive, myself and my other half went and our bill was 100 Euros (but that was 3 courses and a few beers), but so worth that special couples meal out. Keep driving in the same direction and you will pass a make shift bar on your left, that the locals have created with a sofa outside! a little further is El Charcos Restraurant down the hill on your right hand side, we ate there and it was lovely; further still and heading back down the mountain the other side you will come acros the Indian Tippee Restaurant, Chez Spice; we ate here once and the views are amasing and the food was lovely, so again would recommend. These three restaurants are all within a 3-5 minute drive of the Villa. You could walk to Las Orquideas and El Charcos, but it gets quite dark so take a torch! Cant think of much else to mention. At the end of the remote villa road, that joins the main road, straight opposite is where the bins are. Personally I wouldnt recommend turning left at the end, because you will drive for miles and miles and there really isnt much to find. If you want a private fun group or family break then book this Farmhouse. Three groups can still have their privacy, ideally two couples and a family of four would be my recommendation. BBQ's around the pool are fantastic. It does get dark quite quickly so remember this. The pool is very deep; there is not a shallow end. I am 5' 5'' and couldnt touch the bottom, so you need lots of inflatables for the smaller ones! There is also a lady who comes around in her little white van on a Sunday selling warm roasted nuts.... wonderful they are! :-)


---

Review from




Pam B, Leeds, United Kingdom




Reviewed 25 Aug, 2014

"Superb holiday property"


2 grandparents, 2 sons and wives & 3 grandchildren (aged 3, 5 & 7 years) found this house exactly what we wanted - and more. The accommodation, clothes storage areas and games facilities are excellent and there is everything necessary for cooking & eating with a large family group. The outdoor space is unbelievable; we were determined to sit, eat & relax in all the possible areas! The children were in heaven, playing safely in the grounds and the pool (supervised by an adult ,as this is very deep throughout)._Carina & her husband are wonderful; always smiling, charming and unfailingly helpful._One slight difficulty - the oven seemed unbelievably slow to cook.


---

Review from




Loddle, Cirencester, United Kingdom




Reviewed 05 Aug, 2014

"Yes we found it! The best place to stay in Spain with a family!!"




Attention to detail exceptional! We left the place 4 times in two weeks, that says something about how comfortable we felt here._The location is stunning with views for miles, the sunsets take your breath away._The outside bar proved to be the centre point of the evenings with our 18 year old son serving a mix of cocktails nightly._The village is rural, very friendly with a shop that when you look properly has everything you need._The hosts Carina and Jesper, just relaxed and amazingly helpful._Why am I recommending this place? I want it for myself!

---

Review from




Jojomoore74, United Kingdom




Reviewed 05 June, 2014

"Absolute paradise!""


The most amazing peaceful perfect little hideaway. The villa was pure heaven. We had a blissful week away. Carina & Jesper were really lovely. Nothing was too much trouble. _There is a very cute friendly black cat that lives around the villa. She's lovely and enjoys lots of fuss and cuddles! We will definitely be going back there next year. What an amazing place!

---

Review from




Heyup_R0bbeh, London, United Kingdom




Reviewed 31 May, 2014

"Perfect"


My friends and I have just returned from a short stay here and we can't recommend it highly enough. Karina and Jasper are great, full of information and even welcomed us with cold beer and crisps! The villa is wonderful, the photos really don't do it justice. It's very well thought out with numerous areas to, eat, chill out, sunbathe and keep occupied. Seriously the owners have thought of everything; there's a shaded pool table area, a table tennis area and dart board area next to the bar and BBQ - there's even an outdoor bed for when you fancy a bit of shade by the pool. This is probably the best and most well equipped villa I've stayed in and there's everything you could possibly need in the kitchen. On top of all that all the rooms are amazing, 3/4 are en suite and the beds are incredibly comfy. We all said that we want to come back again so hopefully we'll be back again next year. Thanks again Karina and Jasper for letting us stay in your beautiful villa

---

Review from




coldplaay, Vaxjo, Sweden




Reviewed 26 April, 2014

"Perfect place for a springholiday"


This house is great!! It has a lovely garden and a great inside space and kitchen. I also liked that it's out on the countryside in the village Los Romanes with great restaurants and shops close by. Perfect to visit in the spring when the trees are green and it's not too hot!.


---

Review from




Marie A, Newcastle upon Tyne, United Kingdom




Reviewed 24 sept, 2013

"Heaven!"




Stayed here as part of a motorcycle tour of Spain. Spent 7 nights blissfully enjoying the fantastic villa and the surrounding roads. This villa is big enough to cope with groups of friends - there are enough lovely little areas to find privacy and yet still some lovely big tables outside to enjoy company.__We cooked most nights, enjoying the wood oven and the outside bar and the fantastic views.__There is a shop within walking distance that has everything you need, and a supermarket within 10 mins drive. There's a bar in the village and a restaurant if you feel the need to venture out. we didn't :)__The villa owner, Jasper, was really helpful, organising a trip to Granada for us. Nothing was too much trouble. It was obvious that this had originally been his home - the villa was so comfortable and welcoming.__If you are looking for brand new, shiny accommodation then this probably isn't for you. This place feels like home. There was even a cat that came to visit every day. This was my best holiday ever. Loved it

---

Review from




Liveje, Copenhagen, Denmark




Reviewed 24 Sept, 2013

"Best vacation ever!"


We rented the villa in the first week of September and it was the best vacation ever. Carina and Jesper were really friendly and greated us like old friends. During our stay they were always on-hand if needed being only a text or a phonecall away. __The villa was well equipped with all kitchen utensils needed for home cooking, plastic glasses for use poolside, wifi connection, sat. tv and air con in all bedrooms. Washing machine makes it possible to travel light and there was even a hairdryer and iron. The villa is decorated with Maroccan inspiration. It's in two levels with two bedrooms and one bathroom in the basement and kitchen, living area, one bathroom and one bedroom with in-suite on the gorund level. The fourth bedroom is an anex with in-suite. The villa is old with massive stone walls that keeps it relatively cool in summer and the atmosphere is cosy and relaxed. Dont expect bright, modern interior as this is rural Spain, but everything is clean and tidy. __Extensive terraces around the villa with lots of both sun and shade. Great breakfast terrace outide the kitchen door with fantastic views. Large daybed for mid-day fiestas, poolside shower, bar and barbecue area with outdoor fridge was the place to gather for a cold drink in the afternoon and poolside dining table made a great spot for late night dinners. __Los Romanes is a 5-10 mins. walk away. There are two small supermarkets selling all essentials and a small shop selling vegtables plus a small bar and a restaurant. The supermarkets are open Mon.-Sat. from around 8am-14pm and again from 5pm-20pm. Buy bread at the one selling cigarettes :) We never really found out the opening hours for the vegtables shop. _Try the restaurant El Charco, their leg of lam is to die for (Don't have "white fish in sauce" though) and on your way home from dinner stop at the small wooden cabin, on the small square selling cold drinks, for a night cap. If there isn't room at the tables the friendly owner will bring more tables and chairs for you. You can buy cold beers and all sorts of long drinks. _Also try the camping restaurant at Vi–uela Camping. They do all kinds of barbecues but pre-order their suckling pig, it's the best we ever had. It's a bit expensive but it's well worth it and it easily satisfied seven hungry foodies even though the owner said there was food for six persons. We also had fried potatoes and salad with the meat and finished with amazing desserts. __The location as amazingly rural and yet in walking distance to small village with most amenities. The coast is only a 20 mins. drive away and here you'll find large shopping centres, nightlife, bars and restaurants. You can rent a sunbed on the beach at Torre Del Mar or just relax at one of the many chiringuitos. Try grilled rosada (fish) seasoned with garlic or the sardines grilled over coals right at the beach. __Our stay at Cortijo Barranquero was all we had dreamed of and more than we hoped for as the pictures don't do the villa and area credit. We will be back :)

---

Review from




jo h, Carlisle, United Kingdom




Reviewed 02 June, 2013

"home from home with spectacular views and sunshine!"


this villa has it all.... rustic look and genuine feel of Spain. perfectly decorated with very well thought out areas to chill out , sunbathe, socialise and have fun. it is very well equipped and clean. close by is Los Romanes a quaint village with all amenities, Miguels is a must... you will be very well looked after with gorgeous food and very reasonable prices. Comares is another lovely village and has to be seen to be believed, well worth the drive and little walk when at the top of the village. too much to write in one review. highly recommended both area and villa. we've already enquired for next year!!! carina and jesper are very lovely people and very easy to deal with and very welcoming. thank you and see you soon.

---

Review from




Richard W, Biggleswade, United Kingdom




Reviewed 15 Oct, 2012

"Absolutely divine Villa"


I can thoroughly recommend this Villa and location. It is ideal for those who want peace and quiet along with great views and superb facilities._The Villa is very well equipped._The communication with the owners was excellent. The facilities at the villa are without fault._We had the best holiday either of us has ever had.

---

Review from




Angela4742, Carlisle, United Kingdom




Reviewed 30 Aug, 2012

"A Real Wow! of a property!"


The moment you enter the property,it it one big Wow!_The setting is amazing,with a wonderful vista across to Comares perched on the hill opposite.If you have come on holiday for total peace and quiet,then this is the place.The thought that has gone into the furnishing of both inside and outside of the property is self evident.Wonderful shaded areas to relax in,comfortable loungers to sun-bathe on..with the added bonus of towels to use for the beach._The large terrace to eat at ,with a wonderfully refreshing breeze.A kitchen with as many plates,dishes and bowls that you could possibly need for a large party of nine._We were a party of 2 grandparents,2 daughters & 2 son-in-laws and 3 grandchildren

---

Review from




Dawnbozberg, Essex, United Kingdom




Reviewed 31 Aug, 2011

"Everything we could hope for from a holiday home!"


this property ticks every box for every age group (except toddlers due to the pool not being fenced). We were two couples traveling with 4 children aged 10,14,16 and 21. The pool was magnificent and from the terrace there are views across the hills to the white village of Comares -this looked magical at night - we watched their fire work display from the terrace on the final night of their fiesta. There are plenty of shaded areas to sit, plenty of sunny areas to sunbathe and great not having to take sun bathing towels - frees up a lot of luggage allowance. We loved sitting around the bar drinking sangria whilst we barbequed our evening meal. The butchers shop near to the 'British shop' is excellent value for meat (Carina will direct you) -its about a 10 minute drive and the british shop does supply most things but at a price so pay a visit to Lidl at the Velez-Malaga junction as soon as you can to stock up - however the wine sold at the british shop is an absolute find - 69 cents a bottle and very drinkable - and they usually give you a bottle of complimentary red as well!! so do try it. Beer is cheaper at Lidl and you can get wine at the same price at Lidl too. Try the cava at Lidl for 1.50 euro - excellent. The villa is well equipped with cooking facilities and we felt it lacked nothing at all (except maybe serving spoons). There is a great selection of up to date and classic DVDs and CDs to suit all tastes - the kids loved being able to just chill out inside every now and again. And the WiFi is of course the blood line of all teenagers - so they were happy on all fronts. My husband who is workaholic also feels able to go on holiday if he has internet access and can 'keep in touch'!. The village bar is not a lively place but is just a little village bar in walking distance that does serve Tapas but we didnt try it. The restaurant El Charco in the village is on the other hand is quite lively - we were there on Saturday night and there were musicians playing on there terrace - food was very nice - catering a little to the british but not so it lost all of its spanish roots. We spent a couple of days at the beach at Nerja which was very nice - restaurants on the beach serve seafood (and other things) and whilst it was full of british and was very touristy it wasnt done too badly. We absolutely loved it here and cannot speak highly enough of Carina the owner who was so helpful with all our questions and booked the table at the restaurant for us - a gem of place that feels like home from home but without the bad weather!!!

---

Review from




KevHurst, Liverpool, United Kingdom




Reviewed 16 June, 2011

"The amazing photos still don't do this place justice!"


As you can see from the photos and description, Cortijo Barranquero is a beautiful villa with everything you'll need for a terrific holiday. But however gorgeous the photos may be, they really don't capture how truly stunning this place actually is.__Set in the breathtakingly gorgeous hills of Andalucia, the villa is large and spacious (more than big enough to accommodate our group of 8) and has lots of great finishing touches; like the patio dinner table overlooking the mountains, the outdoor bed to take shade when the sun gets too hot and the amazing bar/BBQ area.__Location-wise it's secluded and private enough to make you feel like you're "getting away from it all", while still being only a short car ride away from the shops, restaurants and nightlife. The location means that a car is definitely essential, but there are lots of places you can go nearby on foot - some great walking trails down to the beautiful Lake Vinuela and some really nice local restaurants (we loved Venta El Charco - just 5 or 10 minutes walk from the villa).__The villa itself has everything you need for a comfortable stay: all mod-cons, including a washing machine, dishwasher, satellite TV, DVD player and wireless internet. Linen, bath towels and beach towels are all supplied free of charge. The owners, Carina and Jesper, are really friendly and always on-hand to help you with whatever question you might have. (They even stocked the fridge with beer and wine for us on arrival!) Many thanks to them for making this one of the best holidays I've ever had.__Overall, if you're looking for a secluded villa for a relaxing time in beautiful surroundings, that has luxury trimmings at a great value price, then I'd recommend Cortijo Barrenquero without hesitation.

---

.
---

---




Perfekt litet hus
för vandrare
Casa Tinto är ett smakfullt inrett hus utanför Alcaucin

Klicka bilden för info!
---

Biljetter till Alhambra
Hur förbokar jag biljetter?
Klicka bilden för info!
---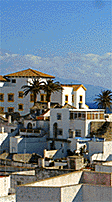 Köpläge!
Hus till salu
Här presenteras några hus till salu i "vårt område"

Klicka bilden för info!
---
---